Industry Leaders in Aircraft Interior & Paint
On Time • Meticulous Craftsmanship • All-inclusive Service
Paint, Interior, & Cabinetry Services
Planes Have Never Looked So Good
First Class Aerospace offers custom aircraft paint along with chemical paint removal services. Our painting preparation process is detailed and exacting with safety and customer satisfaction as our foremost concern.
Our line of interior work makes sure that your carpets, seats, headliner, and cabinets all match and look brand new.
First Class Aerospace is proud to include Cabinetry in our list of professional services provided for your aircraft.
Get in Touch with the
Experts at First Class Aerospace Today
Upgrade your aircraft. Why Wait?
Why First Class Aerospace
Dedicated to your vision for over 30 years
Design Perfection With Endless Possibilities
We provide a unique service in the aircraft interiors and paint. From the interior design to delivery, our clients are amazed to see their mind's-eye concepts evolve into the luxurious aircraft interiors they imagined, on time and on budget. For over 30 years, our paint experts have been making aircraft beautiful. Whether it a full exterior and interior refinish, or just a touch-up, we make sure that we use the best materials and caring labor to make the lineman ask: "is that new?
We're Pilots Too & Understand Turnaround Time
Whether it's luxurious sheepskin for the crew seats, or an extra pocket for your iPad, we'll help design the perfect interior that fits your needs. We take deadlines seriously, and make every effort to return your aircraft to you on time and on budget.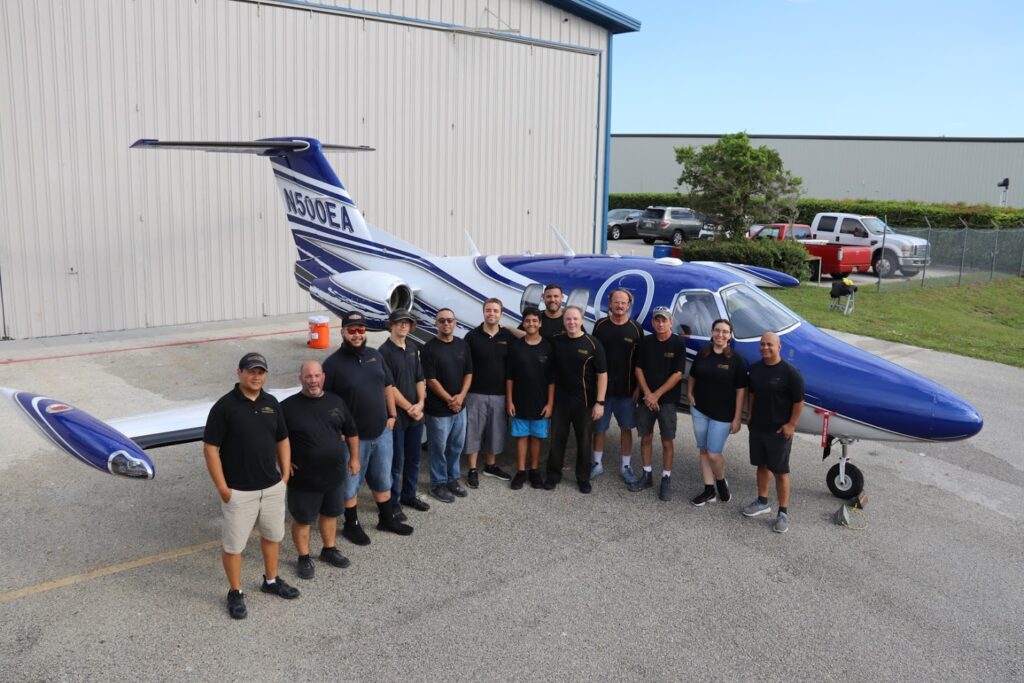 Ready to Transform Your Aircraft?
Your passengers will feel safer, and you'll feel more at home.
We also offer avionics, engine work & inspections. Get started today by requesting a free estimate! Our professionals will take the time to personalize your experience with us to guarantee you get exactly what you want. What are you waiting for?
Guaranteed Quality, Always on Time
Beechcraft, Cessna, Lear, Mooney, Piper, Archer, Arrow, Cherokee, Comanche, Lance, Malibu, and many more.
We have a saying: "When the job is absolutely, totally, completely done, we have about a day-and-a-half more work to do." Details are critical.
"I was very satisfied with the entire process working with Steve and the others at First Class Aerospace. We worked together on materials selection for the Cheyenne and despite the COVID pandemic they were able to do a professional, quality job within a reasonable time frame. I came away with the sense that I could trust them to do the right thing. In addition to the new interior, they also did the paint touch-up work that I needed. I'm satisfied, I trust them, and I am comfortable recommending them."
Roland Lussier
"While we are located in Canada we needed value to spend the money to relocate the aircraft over top of a dozen other paint shops. It was a gamble for us but in the end the odds were in our favor! The paint turned out excellent. The prep work, bodywork and lines were "First Class". "
Blaine Field
"Remarkable attention to detail on my new leather interior, provided me with some great ideas I would have never thought of, did the little things to make it all turn out just fabulous... Perfect!"
Arlen Stauffer
"These guys are fantastic! They did full paint, Interior, and all glass replaced on the first of two Elgin Aero Club C-172's and it looks awesome! On time delivery and always available to talk."
Jim Taylor
Eglin Aero Club Manager
"Steve and his staff are wonderful!! Professional work and very attentive to your needs and desires. I highly recommend them!!!"
Erin Zachary
"Excellent workmanship and superb attention to detail. I just had my Mooney interior redone with Steve and his team at First Class Aerospace and couldn't be happier with the work. Great communication throughout the process and completed the work ahead of schedule. I highly recommend them."
Mark Helm
"I've been a pilot for over 15 years and restored 5 planes including the Cessna 340A that I fly now. I can say without a doubt that the work performed at First Class Areospace interiors is the best quality and service that I have ever experienced. I would highly recommend Steve to anyone looking to make their old airplane look new."
George Matthews
"Looks like a new plane, special thanks to the crew at Aerospace."
Mike Callejo
"I am very pleased with my interaction, quality of work, and timeliness of the work done on my aircraft. Every detail was covered and nothing was looked over. I will confidently send others to First Class without hesitation!"
Tony Ambegaoker
"Beautiful upholstery and paint shop just got a complete overhaul. Awesome work comes out of here."
Jesus Gonzalez
"Excellent work. We were very satisfied. Took care of a couple of minor glitches before we left. Recommend them w/o any reservation."
Albert Tellechea
"Steve, Juan and the rest of the team did a great job and completed the job earlier than promised."
Doug G
"I have and will continue to recommend these guys to anyone looking to get interior done especially for airplanes. They are top notch without a doubt. If anyone would like to see the job they did on our plate feel free to ask because it will blow you away just like it did us. Thanks again to Steve & the entire First Class Areospace Team. Customers for life! "
Gabriel Doher
ZD360
"Were great to work with. Every time I called he answered or immediately returned phone calls. It was not lost on Steve that this was a major upgrade. He treated it as such. They did a great job on the paint and interior. I was blown away as I first walked up to the airplane (A36) on the day of pickup. Even though I had seen pictures, in person it was that much better. The interior was just as good as the paint and ohh my goodness the new leather smell!!!!!"
Richard Davis